As we all know, Christmas is just around the corner.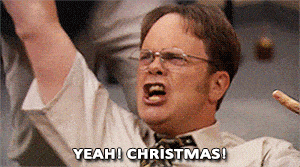 And i bet not everyone has finished their Christmas shopping, so i'm coming to the rescue with some ideas for those last minute gifts, that any tech lover would definitely love.
1.  Touchscreen gloves are a must for anyone that is just glued to their phone, and don't want to stop using it just because it's freezing outside.
Here you can find a pair from mujjo.com that will work with any type of touch screen. They provide a snap closure that will make them comfortable to wear , they are knitted with a soft integrated fleece lining and are durable. Compared to other gloves, i like that they do provide a good grip, so you won't have to stress about your device slipping from your hands.
Price £26.69 , but you can use the code "girltechweekly" to get 15% off if you place your order before 19th Dec. (discount code applies to any product from mujjo.com)
2.  Staying within a lower end budget , here's a gift for any photographer out there that would like to display their images in a creative way. The KiiPix Instant printer is something a bit different, as it does not use any ink or batteries. 
You simply find an image you'd like to print on your phone, place your phone on top of the printer, press a button and roll your image out.
It uses the Instax mini film that can be found at about £14.99 /per 20 shots and it's quite an interesting little device. Price £29.99 at Jessops.com
3.  If you're looking for a gift for a gamer in your life, that is loving the retro vibes, i found this Saga Smartphone Controller, that looks quite fun.
It's only compatible with android smartphones, and comes with over 17 retro games, so that your friend can relive their childhood games all over again. Price £29.99 at firebox.com.
4.  Now if you want to spend a bit more on your Christmas gift, and you have someone in your life that is just loving photography, but they don't yet have a proper camera, i have a suggestion.
Yes i know, it's from Jessops again, but they are the only ones offering this deal that for the same price of the camera, you get a memory card,  jolby tripod, a body jacket and strap for the camera and even a 1 hour tuition in one of their stores.  It might only work for people living in the Uk that have a store close by so that they can take advantage of the 1 h session, but honestly it's a pretty sweet deal. Price £449.
Not only the quality that you get from the camera is amazing but it's also really easy to use. It's a mirrorless camera ( that i explain about here) that your friend or even you ,if you decide that you should make yourself a gift this year will be able to use with ease.
5.  And finally if you already have that friend in your life that "has it all", because they are already into tech gadgets this next one is something that they will definitely love.
It's a customizable  keyboard that makes designing and editing so much easier. It's compatible with all the Adobe softwares and it's made of aircraft-grade aluminium. You can use the knob to zoom in and out, turn volume up and down, adjust different settings and much more. I know i would love to have one of these. You can order it from here and it's £65.99.
Let me know what you think of these gifts ideas and which one of them you'd like to get under the tree.